Promoted to VP 6 Months Ago, 3 Months in, She Was Given GLOBAL Responsibility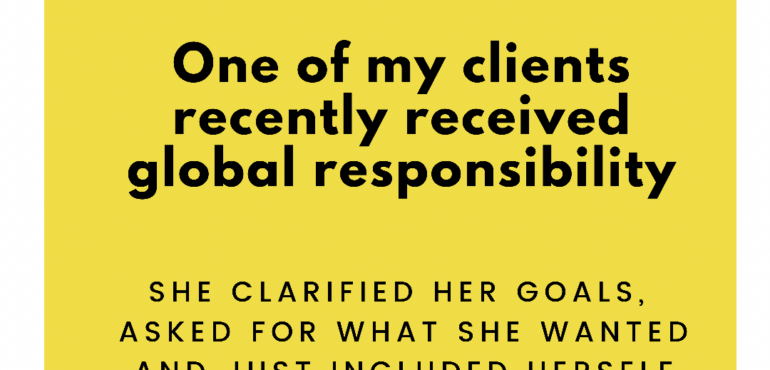 Headline: Promoted to VP six months ago, 3 months in, she was given global responsibility.
Industry: Global Financial Services
How it was: She wanted to be promoted, but they said it was delayed because of the pandemic. She was disenchanted, especially because she is a tech expert in business that only had so many roles for someone at er rank.
On the journey: She learned that everything she needed she already had—including the sponsorship at the highest levels of the company. She also discovered the benefits of self care. She committed to traveling once a quarter too far flung places to relax and rejuvenate. She and her hubby started dating more, and she started having more frequent girlfriend time, even if it's just a stroll and a fro-yo.
Her secret sauce: She rediscovered the world outside of her job, grew her influence inside the company, put herself "out there" for new roles and found the power of self-care.
Where she is today: In less than three months, she got that VP title. In three more months she found herself building a global team.
Are you ready to cast the vision for the next part of your story, then live it out? Learn more about my private practice at nsccoaching.co and book a free strategy session while you are there.
Self care is not only not selfish, it helps you refocus, replinish and smash your goals.
#leadership #womenleaders #csuitecoach #executivecoach